Entryway Awnings are a Great Way to
Dress Up the Front of Your Home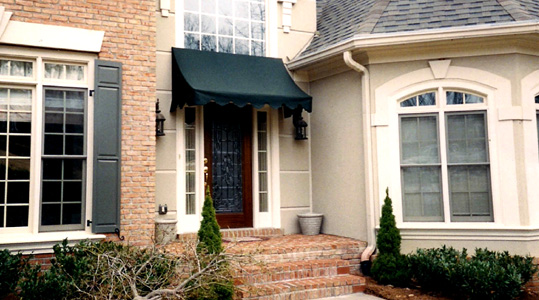 Awning Profiles
We offer all of the popular awning profiles which together will beautiful fabrics of all colors and designs will make your project more than just a success. We can make your project into a masterpiece. If your project requires it, we are able to deliver a completely customized traditional frame awning or retractable awning solution. A few common awning profiles are shown below.

Concave
1/4 Barrel
Dome
1/2 Round
Standard Patio
Standard Frame
Dome Elongated

Other Profiles Not Shown are Also Available
Contact Us for Information on Custom Profiles





To view our website in a mobile friendly format, scan our QR code shown left.
Adding An Awning or Canopy to Your Home Will Bring Beauty and Enjoyment to One of Your Life's Most Valuable Investments
Adding window & door awnings and or patio cover to your home will create beautiful accents to your home's exterior that increases it's value, can result in energy savings, and bottom line, will help you to enjoy where you live. Feeling good about how your home looks, well, helps you feel good too.
We invite you to contact us and share the vision you have for your home or, let us inspire you. We have helped thousands of homeowners to beautify their homes and achieve their vision.

We are proud to offer:
Solid Frame & Retractable Awnings
Patio Covers
Window & Door Awnings
Freestanding Canopies
Entryway Awnings
Drop Curtain
Awning Repair
Our Awnings are Crafted with
Quality Fabrics by Sunbrella

We have hundreds and hundreds of options to choose from when it comes to awning fabric designs and colors. If you already know what you want, we'll get it for you. If you don't, our designers will help you find just the right match for your project.
---
What Our Customers are Saying…

" ...We will gladly recommend Atlanta Awning Company to any & all... " - A. Schmierer & W.Jones

"I can certainly attest to the fact that you stand behind your work..." - M.Outlaw

"Your work crew was outstanding. They were polite and cheerful..." -K. Klare

"We appreciate all you did to have our project done on schedule..." -F.Clemente
---